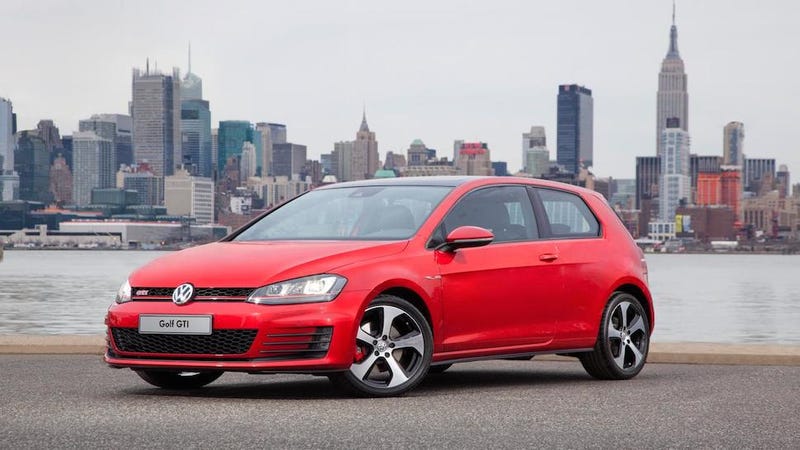 The new versus used debate has been going on for nearly as long as the car has been in existence. It's the age-old question. Do you buy a new car with the benefits of a full warranty, or a used car and save some money by letting someone else eat the depreciation? Depreciation can be wonderful thing; it allows you to buy a car a few years old for significantly less than it sold for new. The debate gets even tougher when you realize you can buy a nicer car that has depreciated for the same price as a new car in a lower class. Which brings us to the two cars in featured in this car debate, the Audi A5 and the VW GTI. I'll also throw the A4 into the mix, too.
A brand new 2015 VW GTI S 2-Door with a 6-speed manual has a base price of $24,395; the 4-door starts at $24,995, and the range-topping Autobahn trim with the 6-speed manual transmission starts at $30,695. Add the DSG dual-clutch transmission ($1,100), Driver Assistance Package ($695), and the Lighting Package ($995), and a fully loaded GTI comes in at $33,205. That is getting a little expensive for a compact hatchback, and you might be wondering if your money could be better spent elsewhere. So now let's discuss the used alternatives.
A new 2015 Audi A5 Premium starts at $40,000, the Premium Plus ($42,300), and the Prestige ($48,400). However, if you buy these cars used, you can get them for the price of a new GTI. So I searched Cars.com for used Audi A5's in the same price range as the new GTI's listed above. The A4 also fits in that price range, and is even less expensive than the A5. I restricted the search to Certified Pre-owned cars with less than 40,000 miles to ensure that the car you're buying has been thoroughly inspected, and the mileage is low enough that you shouldn't run into problems anytime soon. I always recommend Certified Pre-owned vehicles over other used vehicles because the certified cars have gone through a multi-point inspection, and also come with an extended warranty along with other benefits.
You can view examples of used A5's here and the A4's here. So we've established that you can get a very nice, classy, used midsize luxury sedan or coupe for the price of a new premium compact hatchback, but the question is which one do you buy? It's hard to say, and I don't have a definitive answer here. I love all three of these cars, hence why I'm writing about them. Ultimately, you will have to consider which car best suits your needs, and what your appetite for maintenance is. If you can get can a used Audi in great condition with low mileage and a warranty, then it is definitely worth considering. However, a new GTI is a fun, practical car with a premium feel. So which one will it be, new VW or used Audi?